America is standing in the midst of one of its worst drug crises. Opioid overdose has become a leading cause of death, more likely to kill you than a car crash. In the U.S. thousands die each year from an opioid overdose. An opioid addiction typically begins with a prescription, intended to temporarily treat the pain of a patient. However, these pills have highly addictive properties, leading to patients seeking out more. Many eventually transition to heroin, which is a relatively cheaper substitute. However, fentanyl has recently entered the scene, a more potent and less expensive substitute for heroin. With only a single pinhead being enough to kill, the epidemic has become incredibly dangerous in recent times.
The Real Cost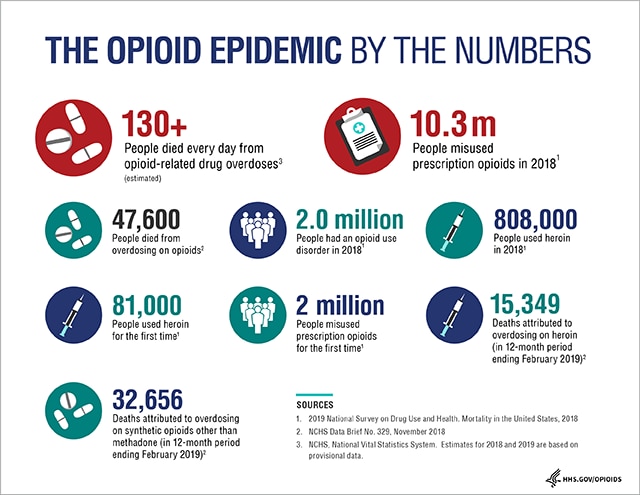 Frequently, the conversation around the opioid crisis centers on two things-the fatalities and the economic damage. The opioid crisis is often cited as having done massive damage monetarily, with an estimate of $179 billion having been calculated for 2018 alone. The money has gone to several programs, health care, and the criminal justice system. Additionally, a portion of this money has gone to assisting the families and children of addicts. In many incidents, the court is forced to take custody of children, temporarily or permanently, and is then tasked with finding children new homes. When the government does not intervene, these individuals often end up with grandparents or other family members.
"My mom has been addicted to opioids since I was very young, so this has been part of my life since before I can remember," an anonymous student at Klein Cain, said. "I moved in with my grandparents when I was seven because my mom couldn't take care of me."
Children of opioid users often become the 'collateral damage' of the opioid epidemic. Parents who are battling an addiction struggle to care for their children or neglect them entirely. These youth are then left to care for themselves in the absence of a parent, while also facing the expectations that come with school. Most assistance comes from relatives, who are left to care for these children. This has lead to an emerging group of grandparents raising children once again.
"It does take a toll on my family," the student said. "I'm safe and taken care of by people who can supply what I need. However, this means that my grandparents cannot retire, as they have to support us."
The number of youth in foster care has risen alongside opioid deaths and overdoses. Furthermore, these youths have faced increased mental health problems, which are not being addressed. Youth from poorer income areas are being disproportionately affected by the epidemic. These low-income areas have poor health care, coupled with high rates of opioid prescriptions.
The Settlement
The plaintiffs in these lawsuits are seeking one thing, compensation for the massive amounts of money spent coping with the opioid crisis. These expenses go back to the 1990s when the drug companies first began to market these highly-addictive pain killers. Recently, these drug companies have begun to make settlements to avoid going to trial. The most notable was a last-minute settlement with four drug companies to avoid going to the first federal opioid trial. The aforementioned companies were McKesson, AmerisourceBergen, Cardinal Health, and Teva Pharmaceuticals. They will be required to pay at least $260 million, leaving Walgreens as the only defendant in the case who has not settled. We reached out to Congressman Dan Crenshaw for comment regarding the issue.
"I'm proud to be a member of the Freshman Working Group on Addiction," Congressman Crenshaw said. "The group has spent this year focusing intently on the opioid epidemic and finding concrete solutions to address this crisis."
These lawsuits are no surprise to those who have stayed up to date on the opioid crisis. The pharmaceutical industry made billions off of American opioid usage. They are attributed to the start of the "first wave" of the opioid crisis. Opioids were originally marketed as being incredibly safe and effective, hiding their addictive nature from consumers. Now that they have proven their danger when left unregulated, new laws and regulations are having to be set in place after the fact.
"I have emphasized reforming the federal regulation 42 C.F.R. Part 2 to encompass substance use disorder information in the general medical history covered by HIPAA privacy protections," Crenshaw said. "This reform would better integrate substance use disorder into a medical treatment approach, recognizing the nature of the crisis we face."