At the 2019 Newcoming football game on Oct. 24, thousands of students and staff cheered as Cain's first full court was announced in its history. In addition to adding a prince and princess role last year for juniors, this year gave seniors the option to vote for Cain's first Newcoming King and Queen. Those two special seniors were King Rudy Fabre and Queen Jordan Mitchell.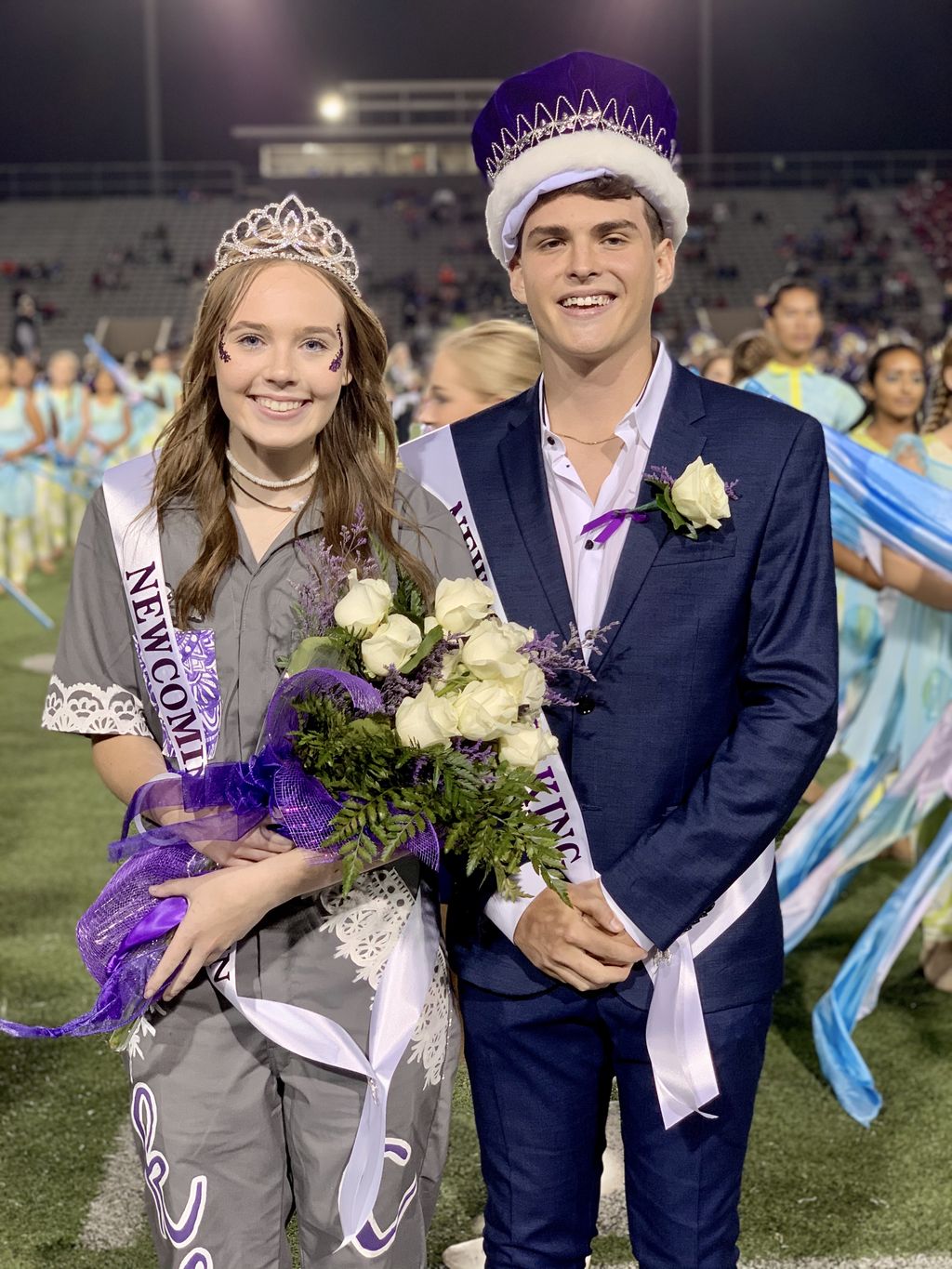 Being out in the middle of the field at Klein Memorial proved to be stressful for Newcoming King and Queen nominees not used to all the attention. Each had gone to the game, wearing formal attire and stayed up preparing for the announcement, but at the end of the day, not being able to win the nomination for First King and Queen was okay.
"Despite the outcome, it was great knowing that many others believed and support me throughout the entire way," said George Fakes, one of the nominees for King.
Fabre and Mitchell, however, did experience being crowned in front of thousands of Hurricanes.
"I was kind of nervous being on the field with everyone watching me but whenever they called my name, I was really, really excited," said Fabre.
Stepping outside of her comfort zone, Mitchell also stood out on the field, silently waiting as the first Newcoming King Rudy Fabre ambled to Principal Nicole Patin to be crowned alongside his selected processional guardians, Jacob Elbert and Brittany Elbert, whom both taught Fabre for more than four years. Finally, during that night, alongside other Newcoming Queen nominees, her name was called.
"I was in shock," said Mitchell. "I didn't think I would be nominated for Newcoming Court because I don't fit the typical stigma for such a role."
With crowns placed and Newcoming King and Queen announced, the game continued on from halftime. In the end, Klein Cain won with a 36-7 victory over the Oak Ridge War Eagles, avenging last year's loss when Klein Cain first matched up with the War Eagles and lost 34-7 at home.
In addition to Fabre and Mitchell, eight other nominees won Newcoming royalty titles. These winners being Noah Cantu and Anyiah Stuckey for Freshman Count and Countess, Carson Roper and Genna Davenport for Sophomore Count and Countess, Wyatt Ferguson and Katie Willimann for Prince and Princess, and Dustin Goedde and Erica Goedde for Staff Emperor and Empress.