As the Summer 2019 film season comes to an end, with films such as record-breaking Avengers: Endgame to Quentin Tarantino's 9th film, Once Upon a Time in… Hollywood, and ending with the follow up to 2017's It Chapter One, It Chapter Two. The Fall film season is just beginning. Here is a list of the most anticipated movies for Fall 2019.
Joker (Oct. 4)
Directed by Todd Phillips and starring Joaquin Phoenix, Joker is set to be a different take on the comic-book film genre. Taking more of a Scorsese inspired approach as in 1976's Taxi Driver and 1980's King of Comedy, both being character studies on mentally ill individuals. Joker has already won over many critics, even winning the Golden Lion at the Venice Film Festival, with Phoenix even being eyed for an Academy Award nomination. Joker will be released in the United States on Friday, October 4th.
El Camino: A Breaking Bad Movie (Oct. 11)
The follow up to AMC's 2008-2013 Golden Globe and Emmy winning television show Breaking Bad, El Camino will have Aaron Paul reprise his role as Jesse Pinkman as well as series creator Vince Gilligan set to write and direct. The plot will revolve around Jesse Pinkman and the aftermath of the finale of the show. The film will be released digitally on Netflix and will have a limited theatrical release from October 11th to 13th, followed by an unannounced date for a TV broadcast for AMC.
Jojo Rabbit (Oct. 18)
From the director of Marvel's Thor Ragnarok, Taika Waititi. Jojo Rabbit is a dark comedy, a blistering, anti-nazi satire about a young German boy whose imaginary friend is Hitler played by Waititi himself. The plot kicks off when his patriotism for the Nazi cause is tested when he finds out his mother, played by Scarlett Johansson, is hiding a Jewish girl in their home. Jojo Rabbit has been positively received by the majority of critics and even won the People's Choice Award in the Toronto International Film Festival.
Maleficent: Mistress of Evil (Oct. 18)
With decades of acting credits, Angelina Jolie returns after five years since Disney's reimagining of the animated classic Sleeping Beauty (1959), Maleficent (2014). This time in 2019's Maleficent: Mistress of Evil, the plot will focus on the mother-daughter relationship of Angelina Jolie's Maleficent and Elle Fanning's Princess Aurora. 2014's Maleficent made over $750 million in the box office, who knows if the sequel will live up to its predecessor, only time will tell.
Zombieland: Double Tap (Oct. 18)
After a decade of waiting, the sequel to 2009's Zombieland is almost here. The film is set to be once again directed by Ruben Fleisher with Academy Award-nominated Woody Harrelson, Academy Award-nominated Jesse Eisenberg, Academy Award-winning Emma Stone, and Academy Award-nominated Abigail Breslin returning as well.
The Lighthouse (Oct. 18)
The sophomore film of director Robert Eggers, after the critical and financial success of his first film The Witch (2016), it was inevitable that he would make another film of the same type. A psychological horror film, starring Robert Pattinson and Willem Dafoe as two lighthouse keepers, The Lighthouse had its world premiere at this year's Cannes Film Festival in which it received major critical praise. The film will be distributed by A24 in North America and by Focus Features Worldwide where it will have a limited theatrical premiere on October 18th.
Terminator: Dark Fate (Nov. 1)
We are now five films into the Terminator franchise, with the past three being major disappointments. Terminator: Dark Fate, so far has seemed to have the most potential with James Cameron coming back as a producer and Linda Hamilton to once again return as Sarah Conner. The film will feature a new Terminator played by Gabriel Luna pursuing a hybrid cyborg human played by Mackenzie Davis protecting a young girl.
Doctor Sleep (Nov. 8)
Based on Stephen King's 2013 novel Doctor Sleep, the sequel to his 1977 novel, The Shining, where it was also adapted into a film by legendary filmmaker Stanley Kubrick, The Shining (1980). This film picks up 40 years later with an adult Danny Torrance played by Ewan McGregor, after the traumatic events taking place at the Overlook Hotel, now an alcoholic dealing with his trauma when he discovers a girl, Abra (Kyliegh Curran), with the same "Shine" abilities has him, protecting her from a cult led by Rebecca Ferguson's character Rose the Hat, hungry for her powers.
Ford v. Ferrari (Nov. 15)
Directed by the man behind the likes of Walk the Line (2005), 3:10 Yuma (2007), The Wolverine (2013), and Logan (2017), James Mangold is now bringing us Ford v. Ferrari, starring Matt Damon and Christian Bale. The film is based on true events, in the 1960s, Damon's character, an American automotive designer, Caroll Shelby as he teams up with Bale's British race car driver, Ken Miles where they must build a revolutionary vehicle for the Ford Motor Company to rival that of Enzo Ferrari in the 24 Hours of Le Mans in France.
Frozen 2 (Nov. 22)
Back in 2013, Frozen was released, it not only broke the record for the highest-grossing animated film of all time, making over $1.2 billion in the box office, while also being a cultural phenomenon of the ages. People of all ages were falling head over heels for this film, and now a sequel is coming after six years with its original cast members returning. Hopefully, it will recapture its magic from its predecessor.
A Beautiful Day in the Neighborhood (Nov. 22)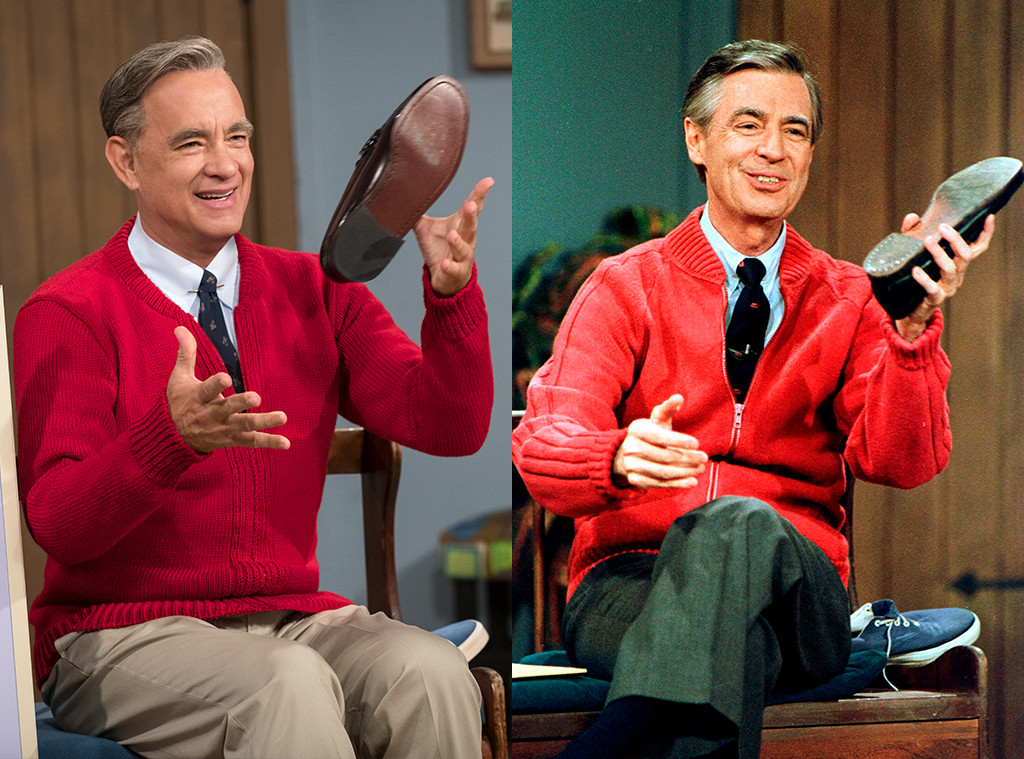 For Mister Rogers' Neighborhood's 50th year anniversary, Won't You Be My Neighbor? was released, the highest-grossing documentary film made. Now more than a year later, Tom Hanks will fill the shoes of Fred Rogers in 2019's biopic A Beautiful Day in the Neighborhood, inspired by 1998's Esquire profile written by Tom Junod. "The nicest man in film, Tom Hanks, stars in this film about the nicest man on TV, Mr. Fred Rogers."
Knives Out (Nov. 27)
Similar to an Agatha Christie (Murder on the Orient Express, And Then There Were None, The A.B.C. Murders) novel, Knives Out's plot revolves around a wealthy crime novelist whose been found suspiciously murdered after his 85th birthday party, with his dysfunctional family present, they are all considered suspects. Knives Out is directed by Rian Johnson (Star Wars: The Last Jedi and Looper) and features a stellar cast consisting of Daniel Craig as Detective Blac with Ana de Armas, Jamie Lee Curtis, Katherine Langford, Chris Evans, and many more.
The Irishman (Nov. 27)
Martin Scorsese, Robert De Niro, Al Pacino, and Joe Pesci. The Irishman is Scorsese's latest film to come after 2016's Silence, starring Adam Driver and Andrew Garfield, this film is said to have that early Scorsese feel i.e. Goodfellas. The Irishman is based on a true story centering on De Niro's Frank Sheeran and his ties to the Bufalino crime family. The film will have a limited theatrical release on November 1st, with it being distributed digitally by Netflix on November 27th.