Ten months after the first outbreak of Covid-19, early data is now showing promise of a coronavirus vaccine. This news comes after drug companies Pfizer and BioNTech announced Monday that their vaccine had a 90% effectiveness rate in preventing Covid-19 from infecting participants who had no evidence of infection before receiving the vaccine.
"Today is a great day for science and humanity," said Dr. Albert Bourla, Pfizer Chairman and CEO. "The first set of results from our Phase 3 COVID-19 vaccine trial provides the initial evidence of our vaccine's ability to prevent COVID-19."
In the vaccine study Pfizer is currently conducting, over 40,000 participants have received either the vaccine or placebo. Those receiving the vaccine showed that they had an efficacy rate above 90% seven days after the second dose. Furthermore, data has also shown that participants given the initial vaccination gained protection 28 days after.
How the vaccine is able to achieve this is through messenger RNA (mRNA), which trains the immune system to defend itself via antibodies. This process occurs by making the body produce the spike protein of the coronavirus, which is the protein that helps the virus get into cells. From there, the immune system can then recognize the virus as a threat from those self-produced proteins and then trigger a defensive response.
But although initial evidence has suggested that the vaccine is effective against Covid-19, researchers, who have long debated the efficacy of such a vaccine, are still cautioning the public to take a step back.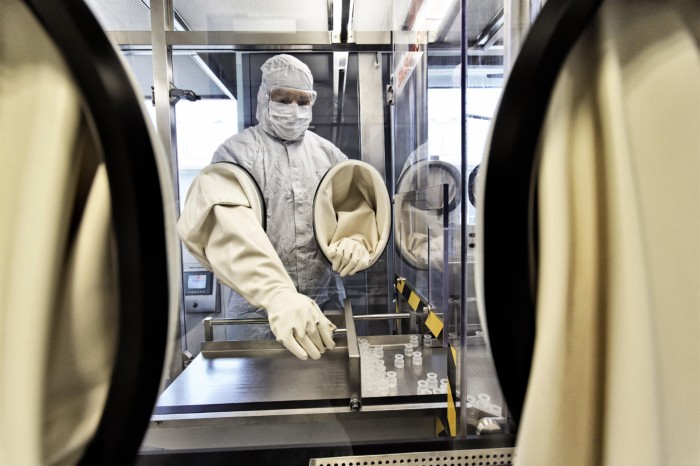 "I don't want to dampen any enthusiasm for this vaccine. I just want us to be realistic," said Michael Osterholm, director of the University of Minnesota's Center for Infectious Diseases Research and Policy. "For a vaccine to really have maximal impact, it's going to have to also reduce severe illness and death. And we just don't know yet."
Pfizer and BioNTech themselves have also warned that data can change in the press release they issued Monday.
"As the study continues, the final vaccine efficacy percentage may vary," Pfizer said in their press release. "The DMC [data monitoring committee] has not reported any serious safety concerns and recommends that the study continue to collect additional safety and efficacy data as planned. The data will be discussed with regulatory authorities worldwide."
However, if the vaccine is approved, Pfizer and BioNTech plan to make the vaccine readily available in large numbers. These numbers may be a bit misleading though since those who receive the vaccine will need two doses, not one.
"Along with the efficacy data generated from the clinical trial, Pfizer and BioNTech are working to prepare the necessary safety and manufacturing data to submit to the FDA to demonstrate the safety and quality of the vaccine product produced," said Pfizer in its press release. "Based on current projections we expect to produce globally up to 50 million vaccine doses in 2020 and up to 1.3 billion doses in 2021."
Moreover, in addition to recently creating his Covid-19 advisory board, President-elect Biden also pledged that he would make a Covid-19 vaccine free of charge. How this pledge would be accomplished would be through providing $25 billion in federal funding to subsidize the manufacturing, distribution, and administration of a vaccine (or vaccines).
"[We want to] ensure everyone—not just the wealthy and well-connected—in America receives the protection and care they deserve, and consumers are not price gouged as new drugs and therapies come to market," said the Biden-Harris transition team in their Covid-19 plan.